Chau Dung Dat
General Director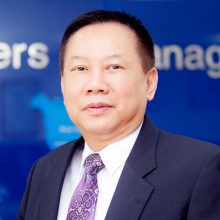 Bachelor of Engineering (Civil), Australian Institute of Quantity Surveyors
Asean Engineer recognized by AseanFederation of Engineering Organizations (AFEO), Membership No. 1275
Affiliate member, Australian Institute of Quantity Surveyors (AIQS)
Mr. Chau Dung Dat has more than 23 years of working experience in Vietnam and 9 years of working experience in Australia. Especially, in the recent 23 years, he has managed successfully Meinhardt ( Vietnam) Ltd.As a General Director, he has led the company to implement successfully many large-scaled and key projects in Vietnam funded by international sponsors such as World Bank (WB), Asia Development Bank (ADB) for the clients who are governmental agencices or private companies.
Some typical project sundertaken in Vietnam under his leadership are: Sao Mai – Ben Dinh Petroleum Marine Logistics Base; SP-PSA International Port Project; Can Gio Tourist Cityon Land Reclamation Project; Mekong Delta Region Urban Upgrading Project – Can Tho City Sub-project (financed by WB –financing Agreement No. CR 5083 – VN); Hanoi –Hai Phong Expressway Project; Mekong Trasport and Flood Protection Project; MGM Grand Ho Tram Tourist Complex Project; Sora Garden 1 Project (Tokyu Binh Duong) etc.
Info

Skills & Expertise

Landmark commercial offices, civil, structural and earthquake engineering and project management with considerable international experience in Europe and S.E. Asia at an advanced technical level.